3rd Annual Health Equity Week
Generating solutions through expert-level conversations.
Register Online
February 27 - March 3, 2023
A weeklong virtual educational opportunity with an in-person keynote event.
We are committed to providing high-quality, equitable care within an inclusive learning environment that values and supports all members of a diverse workforce. Through a carefully curated series of moderated sessions on a variety of topics, thought leaders and scholars from within and outside Northwestern share insights into the roots of healthcare disparities and facilitate discussions that inform and inspire innovative solutions.
Target Audience: Northwestern faculty, staff, residents, fellows, students and community members.
Objectives:
Describe the social determinants of health including disparities as they apply to various disease processes and recognize their impact on adverse health outcomes.
Identify the roots of mistrust, unconscious bias and stereotyping and the ways that these attitudes affect clinical encounters.
Develop skills and demonstrate effective communication across cultures, languages and socioeconomic groups.
Access existing health equity resources.
Describe innovative solutions to health inequities and healthcare disparities.
View Past Sessions for CME Credit
Sessions
Date (Times in CST)
Session

Monday, Feb. 27




4:30 - 5:30 p.m.

IN-PERSON KEYNOTE EVENT

Building the American Indian & Alaska Native Health Professional Workforce & Why That Matters

Feinberg Pavilion, 251 E. Huron St., Third Floor - Conference Room A

Tuesday, Feb. 28




Noon - 1 p.m.

Health Equity Tourism—Case Studies & Prevention Strategies

Speakers: Elle Lett, PhD, MA, MBiostat and Monica McLemore, PhD, MPH, RN
Moderator: Mita Goel, MD, MPH

Wednesday, March 1




Noon - 1 p.m.

Residential Segregation & Health Outcomes

Thursday, March 2




Noon - 1 p.m.

The Double-Edged Sword of Data: An Equity-Centered Approach to Data Use to Advance Health Equity & Avoid Potential Pitfalls

Speakers: Elisabeth Michel, MPH; Quian Callender, MHSA; and Priscilla Wang, MD, MPH
Moderator: Diane Wayne, MD

Session sponsored by NM Division of Community Affairs.

Friday, March 3


7 - 8 a.m.

Overcoming Obesity: Eliminating Barriers to Comprehensive Care
Speakers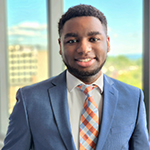 Quian Callender, MHSA
Quian Callender, MHSA, is an emerging thought leader, adviser and educator regarding justice, diversity, equity, inclusion and access. With experience largely within the health sector, he is passionate about data and helping people and organizations enhance their practices through the lens of equity. Callender is director of strategy and planning in Hartford HealthCare's (HHC) strategy and transformation division, advancing access to care across the state of Connecticut. Prior to his current role, he was a founding member of HHC's health equity department as strategy and analytics manager. In that capacity, Callender supported strategy development and deployment across multiple functional areas to drive better health outcomes and eliminate inequities in communities across Connecticut. Some of his accomplishments include creating the system's first health equity, diversity and inclusion report, establishing equity-based data standards for the organization, and developing the system's first equity analytics dashboard for COVID-19, which was presented at the American Hospital Association's Advancing Equity Conference. Callender also serves as Hartford HealthCare's director of early-talent programs. His vision and leadership for recruitment, pipeline development and engagement among early careerists with identities underrepresented in healthcare administration led to Hartford HealthCare's administrative fellowship program, which received Program of Distinction from the National Center for Healthcare Leadership (NCHL) in 2020 and Best Organization for Leadership Development Award from NCHL in the category of supporting early-career talent in 2022. Callender has been recognized as a 2022 Top Emerging Leader in Health Equity and Inclusion from the National Diversity Council. He is actively involved in the National Association of Health Services Executives (NAHSE) at the chapter and national levels and serves as a Werth innovation mentor within UConn's Werth Institute for Entrepreneurship and Innovation. Callender obtained his Master of Health Services Administration (MHSA) and graduate certificate in health informatics from the University of Michigan and BS in healthcare management from the University of Connecticut.
Kiarri Kershaw, PhD, MPH
Kiarri Kershaw, PhD, MPH, associate professor of Preventive Medicine at Northwestern University Feinberg School of Medicine, is a social epidemiologist whose research focuses on understanding the contributions of various aspects of the social environment on health including social relationships, psychosocial stressors and neighborhood conditions and resources. She has examined the social environment in the context of cardiovascular disease risk factors and outcomes, adverse pregnancy outcomes and biological markers of aging. Kershaw is also interested in understanding how features of the social environment act and interact to influence eating decisions. She has been using discrete choice experiments, ecological momentary assessments and agent-based simulation modeling to answer this research question. Her work has been recognized by the American Heart Association with the Scott Grundy Fellowship Award for Excellence in Metabolism Research. Currently, she serves as vice chair of the American Heart Association Social Determinants of Health Committee.
Michael Knight, MD, MSHP
Michael Knight, MD, MSHP, FACP, Dipl. ABOM, is an internal medicine and obesity medicine physician, the associate chief quality and population health officer, head of healthcare delivery transformation and medical director of community primary care at The GW Medical Faculty Associates. He is also an assistant professor of medicine at The George Washington University School of Medicine and Health Sciences in Washington, D.C. Knight completed undergraduate studies at Oakwood University, and obtained his medical degree with special qualifications in biomedical research from the Cleveland Clinic Lerner College of Medicine of Case Western Reserve University. During medical school, he participated in the year-long Clinical Research Training Program at the National Institutes of Health, where his research focused on metabolic disease and obesity in women of African descent. He completed a residency in internal medicine, with special training in obesity medicine, at NewYork Presbyterian – Weill Cornell Medical Center. He subsequently completed a Master of Science in Health Policy Research as a Robert Wood Johnson Foundation Clinical Scholar at the University of Pennsylvania. Throughout his career, Knight has been a champion for health equity and has been instrumental in developing community health education programs throughout the United States. He served as the 48th national president of the Student National Medical Association, and currently serves as the founder and president of the Renewing Health Foundation, a non-profit organization working to empower urban minority communities through health education. He has served on various boards and committees of organizations such as the American Medical Association, where he serves on the Council of Ethical and Judicial Affairs, and the National Medical Association, where he currently serves as Region II Trustee. Knight is board-certified in internal medicine and obesity medicine. He practices clinically in the GW General Internal Medicine Practice and Weight Management Clinic, where he works with a multidisciplinary team to provide medical weight management through nutrition, physical activity and medication management. He is a diplomate of the American Board of Obesity Medicine and has served on various committees of The Obesity Society and the Obesity Medicine Association. He has also been a featured medical expert on radio, television, and in print news media, and routinely speaks at events internationally and throughout the United States. Knight has received numerous awards for his professional and clinical practice, including the American Medical Association Foundation Leadership Award, Washingtonian Magazine's Top Doctors Award and the Top 40 Under 40 Leaders in Health Award by the National Minority Quality Forum.
Elle Lett, PhD, MA, MBiostat
Elle Lett, PhD, MA, MBiostat, is a Black, transgender woman; statistician-epidemiologist and physician-in-training. Through her work, she applies the theories and principles of Black Feminism to understanding the health impacts of systemic racism, transphobia and other forms of discrimination on oppressed groups in the United States. She holds a PhD in epidemiology from the University of Pennsylvania, master's degrees in statistics and biostatistics from The Wharton School and Duke University, respectively, and a bachelor's degree in molecular and cellular biology from Harvard College. To date, her work has focused on intersectional approaches to transgender health, reproductive justice, health impacts of state-sanctioned violence and other forms of systemic racism as well as diversity, equity and inclusion in healthcare. Now, she is turning her focus to algorithmic fairness in clinical prediction models and mitigating systems of inequity in health services provision. She is engaging in this new arm of research through a postdoctoral fellowship at the Boston Children's Hospital Computational Health Informatics Program (CHIP), before returning to finish her clinical training.
Monica McLemore PhD, MPH, RN
Monica McLemore, PhD, MPH, RN, is a tenured professor in the Child, Family, and Population Health Department and the interim director for the Center for Anti-Racism in Nursing at the University of Washington School of Nursing. Prior to her arrival at UW, she was a tenured associate professor at the University of California, San Francisco and was named the Thelma Shobe Endowed Chair in 2021. She retired from clinical practice as a public health and staff nurse in 2019, after a 28-year clinical nursing career, however continues to provide flu and COVID-19 vaccines.  Her program of research is focused on understanding reproductive health and justice. To date, she has 96 peer-reviewed articles, op-eds and commentaries and her research has been cited in The Huffington Post, Lavender Health, five amicus briefs to the Supreme Court of the United States, three National Academies of Science, Engineering, and Medicine reports, and a data visualization project entitled "How To Fix Maternal Mortality: The first step is to stop blaming women," which was published in the 2019 Future of Medicine edition of Scientific American.  McLemore's work has also appeared in publications such as Dame Magazine, Politico, ProPublica/NPR and she made a voice appearance in Terence Nance's HBO series Random Acts of Flyness. She is the recipient of numerous awards and was past chair for the Sexual and Reproductive Health Section of the American Public Health Association. She was inducted as a fellow of the American Academy of Nursing in 2019 and resigned in 2022 due to inaction specific to the Dobbs decision that overturned Roe v. Wade. In 2022, she became the editor in chief of Health Equity Journal.
Elisabeth Michel, MPH
Elisabeth Michel, MPH, is passionate about connecting community and systems in innovative ways to eliminate health inequities. Currently, she is the equity system transformation manager at Hartford HealthCare (HHC), where she advances system-wide health equity projects towards improving health outcomes and addressing inequities. Prior to joining HHC, Michel was the interim program director of the Health Equity Leadership Pipeline Collaborative and the University of Michigan Summer Enrichment Program, both housed at the University of Michigan School of Public Health. She is the former chief executive officer and co-founder of Canopy, which built digital tools to help people discuss, document and share their end-of-life healthcare decisions. Michel holds a Master of Public Health from the University of Michigan School of Public Health and earned her Bachelor of Arts degree in public policy studies from Duke University.
Nicole Stern, MD, MPH
Nicole Stern, MD, MPH, FACP, is an enrolled member of the Mescalero Apache Tribe of New Mexico and the first member of her tribe to become a physician. She graduated from the University of Arizona College of Medicine in Tucson, where she completed a residency in internal medicine. She was a fellow in primary care sports medicine at the University of Oklahoma Health Sciences Center in Oklahoma City, and recently completed a Master of Public Health degree from Harvard T.H. Chan School of Public Health. Her MPH field of study was health management and her practicum project focused on American Indian physician workforce development. Currently, Stern is an assistant professor in the Department of Medical Education at the California University of Science and Medicine and an urgent care physician at Sansum Clinic in Santa Barbara, California. She is a fellow of the American College of Physicians and has extensive experience with the Association of American Indian Physicians (AAIP), having served as president-elect, president, immediate past president and two-time at-large-director of the Board of Directors. As the most recent liaison from AAIP to the Association of American Medical Colleges' (AAMC) Committee on Student Diversity Affairs, Stern continues to work closely with the AAMC to collaborate on strategic plans and initiatives that emphasize the importance of including American Indians and Alaska Natives within the national conversation around workforce development and medical school diversity.
Priscilla Wang, MD, MPH
Priscilla Wang , MD, MPH, is a primary care physician at Massachusetts General Hospital and associate medical director for Primary Care Health Equity at Mass General Brigham (MGB) in the Office of the Chief Medical Officer, leading system efforts to close clinical disparities via its United Against Racism campaign, community health worker interventions, nutrition equity strategy and behavioral health Medicaid programming. Her work broadly seeks to address structural inequities in healthcare and to empower vulnerable patients to effectively navigate the healthcare system via complex care and other strategies. Wang's prior experience includes serving as clinical lead for the MGB Medicaid ACO ED Navigator and Community Partners programs to support at-risk complex patient populations via care coordination and connections to social resources, co-founding national patient advocacy campaigns to promote access to healthcare, advising patient engagement strategy in the U.S. Office of Health Reform in the Department of Health and Human Services and leading a patient navigator program at the Yale School of Medicine. She is a graduate of Harvard College, the Yale School of Medicine and Brigham and Women's Hospital Internal Medicine Residency, and the Harvard School of Public Health. She completed her Population Health Leadership Fellowship in the Department of Population Health Management at Mass General Brigham.
Accreditation Statement: The Northwestern University Feinberg School of Medicine is accredited by the Accreditation Council for Continuing Medical Education (ACCME) to provide continuing medical education for physicians.

Credit Designation Statement: The Northwestern University Feinberg School of Medicine designates this live activity for a maximum of 5 AMA PRA Category 1 Credit(s)™. Physicians should claim only the credit commensurate with the extent of their participation in the activity.